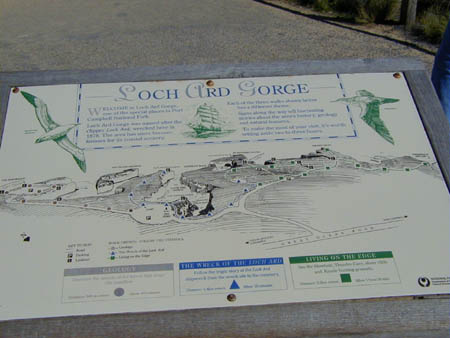 One of the most amazing spots along the Great Ocean Road is the Loch Ard Gorge. Here nature blends with history.
---
The Story of Loch Ard Gorge
On March 31, 1878...the iron-hulled clipper Loch Ard was on its way to Melbourne when it met its destiny on the floor of the Southern Ocean. Of the 54 people on board only two survived. Tom Pearce, age 18, made it to shore in the Gorge where he heard screams for help. He found Eva Carmichael also age 18, clinging to the mast and pulled her to shore. The two waited until the storm cleared, and then Tom climbed his way out of the Gorge and found help. Many of the town citizens believed that Eva and Tom should marry, however, Eva was so bereaved by the loss of her family that as soon as she recovered she returned to Ireland. She later married another Tom. Tom Pearce went onto become captain of his own ship and survived several other shipwrecks. (story as I recall from Ian our tour guide)
---
---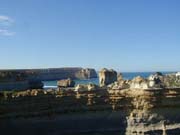 This is the first site along the Loch Ard Gorge. It is known as the Razor Back due to its jagged top. Behind it you can make out some of the 12 Apostles.
---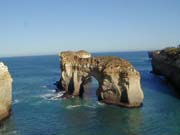 This is the Island Arch. It is spectacular from all different angles. I will have to show any who is interested the rest of the pictures when I come home.
---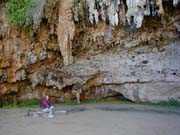 This is the back of the Gorge Beach which Tom had been washed upon.
---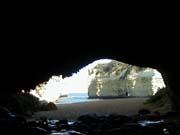 This picture is taken from the inside of the cave which Tom brought Eva to wait out the storm. The colors inside were vibrant greens but I couldn't seem to capture them on film.
---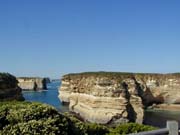 This is Mutton Bird Island. I didn't get too many pictures of the island because this Dodgy Bloke kept trying to hold my hand so I was trying to move onto the next spot as soon as possible. But Mutton Birds are a type of Bird here and they nest on this island.
---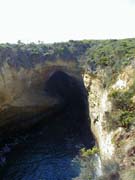 This is the blowhole in Loch Ard Gorge but you can't really see the water coming through. The one on the Tasman Penninusla is much nicer.
---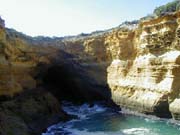 This is thunder cave. It would have been neat to walk into the cave but obviously we couldn't.
---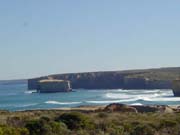 This is the last view along Loch Ard Gorge and it is known as Broken Head.
---
---
I hope you you enjoyed the tour through Loch Ard Gorge!
---
---
Cairns Orientation
Great Barrier Reef
Around Hobart
Hobart Con't
West Coast Trip
Weekend with Mom and Dad
Parties
Bushwalking Club
Extra Pictures
Sydney
Melbourne
Great Ocean Road
Loch Ard Gorge