So here I am in Australia! I am in Hobart Tasmania studying at the University of Tasmania. However before I came here I went to Cairns for Scuba Diving in the Great Barrier Reef and hiking in the rainforest. I don't have any pictures from the reef but as soon as I get my underwater pictures developed I will see if I can find a scanner so I can show you those pictures.

After we hiked in the rainforest we went to a habitat so that we could see the animals that can be found in the rainforest and throughout northern Australia. Above are the pictures of the animals I saw. If you click on the individual pictuers you can see a larger image of the picture. I can't remember the names of a lot of the birds or else I would tell you what they were.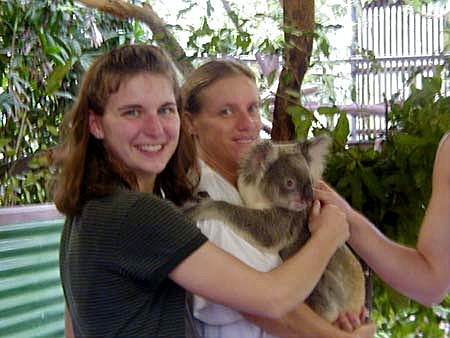 We were all able to pet the koalas in the habitat. They are absolutely adorable. The reason they are always so tired is that eucalyptus leaves do not contain many carbohydrates.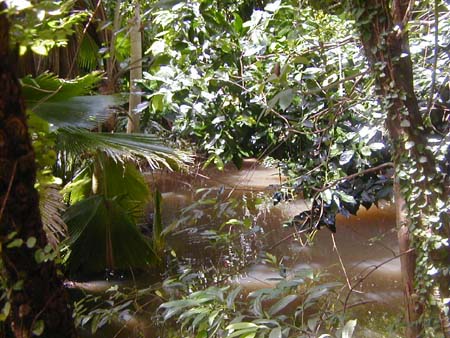 This isn't actually taken inside the rainforest. It was pouring inside the rainforest so I wasn't able to take many pictures. This si the inside of the habitat but it looks exactly like it did in the actual rainforest.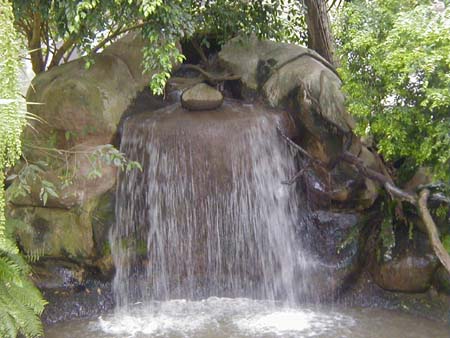 This is just some random waterfall that I thought was pretty.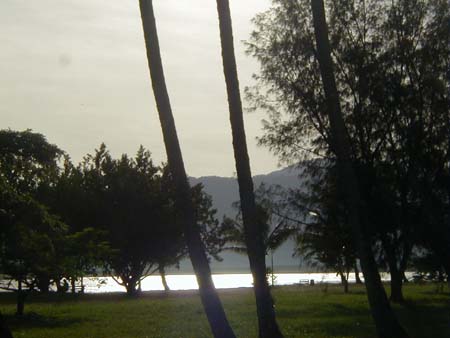 This is the view from outside the back of our hotel.

The last night in Cairns we had a goodbye dinner which we had to dress up for. This is me with my orientation room mates, Roberta and Sara.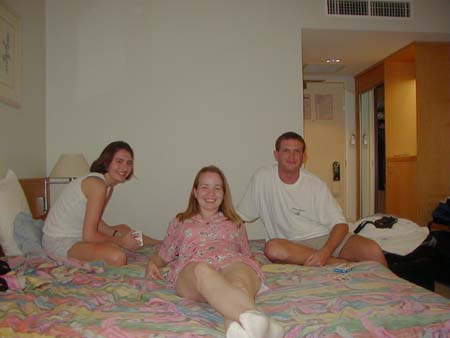 After dinner Roberta, Sara, Rob and I had a bonding session until late at night. They are so awsome and we were all so upset to say goodbye since each of us is attending a different school:-(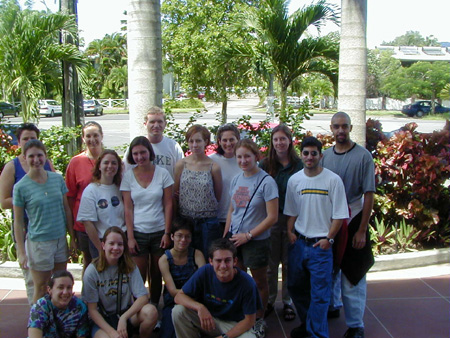 This is the orientation group (well most of it). We were all so close by the time orientation ended. Back: Shoshona, Allison, Rob, Jen*, Mary*, Jason, Middle: Me, Sarah, Lauren, Roberta, Alicia*, Sarah*, Christian*, Sitting: Lauren, Sara, Sara*, Ted*. (Missing: Charlie, Bill, Jamie, Brenna, Renee, Mike) All those with starts after their names are attending the university of Tasmania with me. Sarah second from the right in the middle row and Ted, kneeling are two of the people I hang out with all the time here. They are both really cool!
---
---
Cairns Orientation
Great Barrier Reef
Around Hobart
Hobart Con't
West Coast Trip
Weekend with Mom and Dad
Parties
Bushwalking Club
Extra Pictures
Sydney
Melbourne
Great Ocean Road
Loch Ard Gorge